In honor of President's Day (and to deal with the fact that I don't have an MMGM for you,) I'm sharing an article I read in my beloved Shelf Awareness. [If you don't subscribe to S.A., you really must.] Ursula Nordstrom sounds like my kind of woman!
As an added benefit, I've also discovered a new blog: Brain Pickings (see the link at the end of the article). This looks right up my alley as well!!
The Art of Publishing 'Good Books for Bad Children'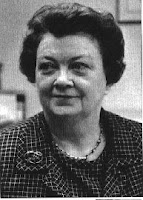 "

I was taken out to luncheon and offered, with great ceremony, the opportunity to be an editor in the adult department. The implication, of course, was that since I had learned to publish books for children with considerable success perhaps I was now ready to move along (or up) to the adult field. I almost pushed the luncheon table into the lap of the pompous gentleman opposite me and then explained kindly that publishing children's books was what I did, that I couldn't possibly be interested in books for dead dull finished adults, and thank you very much but I had to get back to my desk to publish some more good books for bad children."





--

Ursula Nordstrom

, who was head of Harper's department of books for boys and girls from 1940 to 1973 (from the book Dear Genius: The Letters of Ursula Nordstrom, which was showcased by the

Brain Pickings

blog).