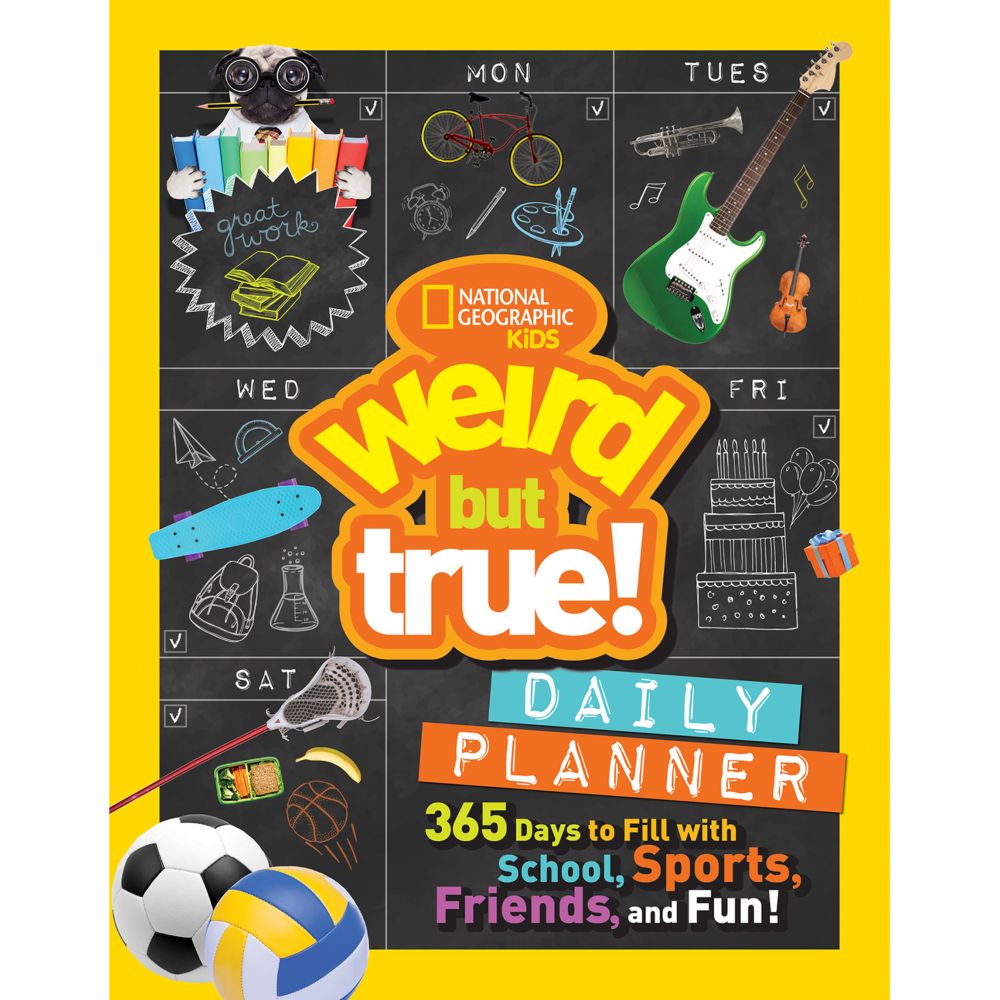 Friends, the mafiosi are back! Summer sped by (hope it did for you too!), with my travels to the mountains of Washington State, and various visits from family. Now the kids are days away from heading back to school--and every mafioso worth his salt is ready for fall: the sounds of leaves gently falling, or the leaves of books gently turning, or the Don going crazy because no one is paying attention to his campaign to rename "middle grade" to "top grade." Oh well, it keeps him out of trouble.
With school on the horizon, what better gift to give one's top grade student but a
Weird But True! Daily Planner
from our friends at National Geographic Kids. Open it, and you're at once struck by weirdness on its "Belongs To" page, where alongside one's name, one is asked for "weird nickname" and "spirit animal." Then, there's the question sure to start a thousand sniffs: "What do you smell like right now?"
Here's what National Geographic says about the planner
on its website
:
Prepare to be amazed each day with weird-but-true facts that will impress your friends and stump your parents. Turn the page and record your school work, keep track of activities, and plan your social life, all while learning wild and wacky things about the world around you.
Fun prompts invite you to celebrate weirdness. Plus there are homework help sections and tons of space to write or doodle your daily schedule any way you wish. With beautiful full-color artwork and engaging information and activities, this is the must-have planner. It's a great way to stand out from the crowd."
Yeah, bet you didn't know that the Aztec of Mexico wore popcorn as jewelry, or that sheep burps contribute to global warming! This is a planner that will make you think, laugh, and embrace the weird.
I also received a copy of
National Geographic Kids
United States Atlas (5th Edition). I have always been an atlas junkie, and this one rocks! Split into geographic regions, it is brilliantly designed, with lots of color and fun facts. As I told my 5th-grader: in 5th grade you have to do a project on an American state. This atlas is going to give you one giant leg up on the competition. (Okay, I admit it, for a mafioso every thing's a competition.)
I'm looking forward to catching up with everyone--visiting blogs old and new. Let me know in the comments what you've been up to this summer, and what you're looking forward to in the fall. Ciao!