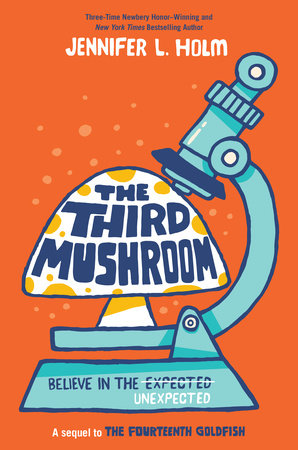 THE THIRD MUSHROOM by Jennifer L. Holm (Random House Children's, September 2018)
What It's About (from Penguin Random House Website):
Ellie's grandpa Melvin is a world-renowned scientist . . . in the body of a fourteen-year-old boy. His feet stink, and he eats everything in the refrigerator–and Ellie is so happy to have him around. Grandpa may not exactly fit in at middle school, but he certainly keeps things interesting. When he and Ellie team up for the county science fair, no one realizes just how groundbreaking their experiment will be. The formula for eternal youth may be within their reach! And when Ellie's cat, Jonas Salk, gets sick, the stakes become even higher. But is the key to eternal life really the key to happiness? Sometimes even the most careful experiments yield unexpected–and wonderful–results.
Opening Lines:
"Maybe because I'm an only child, but my parents have always been a little obsessed with my eating. They insist that I try everything on my plate. That I eat what they eat. No chicken tenders off the kids' menu for me. If they have calamari or chicken livers, that's what I have to eat, too."
My Thoughts:
Jennifer L. Holm is such a wonderful writer! Her range--from cowriting the Babymouse series with her brother Matthew, to the wonderful
Turtle in Paradise--
is tremendous.
The Third Mushroom
is yet another great addition to her bibliography.
I particularly liked the presentation of the main character, Ellie. It's a pitch perfect point of view--worrying about friendships, being confused about feelings of romance, and loving both science and animals. There's also some magical realism--Ellie's grandfather, also a scientist, who has transformed himself into a 14-year-old boy. (FYI, grandfatherly curmudgeonliness does not feel out of place coming out of the mouth of a 14-year-old.)
One of my pet peeves in middle grade, as any longtime reader of the blog will know, is the dead parent motif. Here, Ellie's parents are divorced, but she gets on well with her stepfather. Holm does a great job of creating parents who are important influences in their child's life, but allow the child (and themselves!) to have lives of their own.
Finally, I really liked all the science in the book, and learned a lot about all the scientists who are mentioned. (There is an appendix which goes into more detail. Did you know that the two scientists who discovered that yellow fever was carried by mosquitoes deliberately allowed an infected mosquito to bite them? They contracted the disease and one of them died.)
Verdict: Jennifer L. Holm's latest is yet another success. It would be a great book to read with 8-12 year olds who like books with heart and humor and are interested in science.
About The Author:
Jennifer L. Holm is a
New York Times
bestselling children's author and the recipient of three Newbery Honors for her novels
Our Only May Amelia, Penny From Heaven
, and
Turtle in Paradise
. Jennifer collaborates with her brother, Matthew Holm, on two graphic novel series—the Eisner Award-winning Babymouse series and the bestselling Squish series. She lives in California with her husband and two children.
Website