THE FRIENDSHIP WAR by Andrew Clements (Random House, January 8th 2019)
As chance would have it, I'm reviewing this the week after Greg Pattridge featured it on his
Always in the Middle
blog--which goes to prove that, at least for Marvelous Middle Grade Monday, there is absolutely no collusion.
But... The Don was rather miffed I got pipped at the post by Greg.
The Don: What's this I hear, Michale? This Greg guy, he runs the show, and he also gets to be the first talking about this friends- going-to-war book? Great title, by the way. What'cha going to do about it? Want me to send in the boys to pay this Greg a little visit?
Middle Grade Mafioso: I don't want any trouble, Boss. Greg's a great guy, and he's just a little bit more organized than I am.
The Don: Organized? You're part of an organization, ain't ya?
This
organization. Now, you want out, you just say the word. There's plenty of little fishes in the sea, just sayin'.
MGM: No, no, Boss. I'm happy doing your bidding. Now, you wanna hear about this book? I'll read it to you while you eat your antipasto. Look, we've got some cured meats, olives, peperoncini, mushrooms, anchovies, artichoke hearts, various cheeses... That's right, buon appetito!
(
Phew! The rest of you--don't forget to read this review to the background sound of contented munching.
)
What It's About (from the Penguin Random House website):
Grace and Ellie have been best friends since second grade. Ellie's always right in the center of everything–and Grace is usually happy to be Ellie's sidekick. But what happens when everything changes? This time it's Grace who suddenly has everyone's attention when she accidentally starts a new fad at school. It's a fad that has first her class, then her grade, and then the entire school collecting and trading and even fighting over . . . buttons?! A fad that might also get her in major trouble and could even be the end of Grace and Ellie's friendship. Because Ellie's not used to being one-upped by anybody. There's only one thing for Grace to do. With the help of Hank–the biggest button collector in the sixth grade–she will have to figure out a way to end the fad once and for all. But once a fad starts, can it be stopped?
Opening Lines:
Flying from Chicago to Boston by myself hasn't been as big a deal as my dad said it was going to be. But nothing ever is. The second I turn on my phone, it dings with three texts from him.
Why I Liked it:
Andrew Clements is a master of the middle grade voice, and he's picked a topic all those of us who live with middle graders are intimately familiar with: the all-consuming fad. Whether it be fidget spinners or Fortnite, something always seems to flood the market and literally everyone seems to be doing it or having one.
In this particular story, it's buttons. Grace, the main character, finds a stash of buttons on a visit to her recently widowed grandfather--and it's game-on after that. What brings in the conflict is the fact that Queen Bee Ellie has to get into the action and one-up Grace. This felt realistic, also. At this age, friendship and rivalry can be different sides of the same coin--and who among us hasn't had what the kids these days call a "frenemy?"
The novel reads very quickly, the middle grade voice is perfect, and the characters are fleshed out. I liked Grace's sweet relationship with Hank, and the fact that the ending was a lesson in the consequence of making bad decisions. I can't wait to see what Andrew Clements will come up with next!
About the Author:
Andrew Clements is the New York Times bestselling author of the beloved modern classic
Frindle
,which has sold over six million copies, won nineteen state awards (and been nominated for thirty-eight!), and been translated into more than a dozen languages around the world. Called the "master of school stories" by
Kirkus Reviews
, Andrew is now the author of over eighty acclaimed books for kids. He lives in Maine with his wife, Becky. They have four grown sons and two rascally cats. Visit Andrew online at
andrewclements.com
.
MGM: Okay, Boss, I see you liked this one too. What shall we read after dinner? I guess we'll all know soon enough. Till then,
ciao
!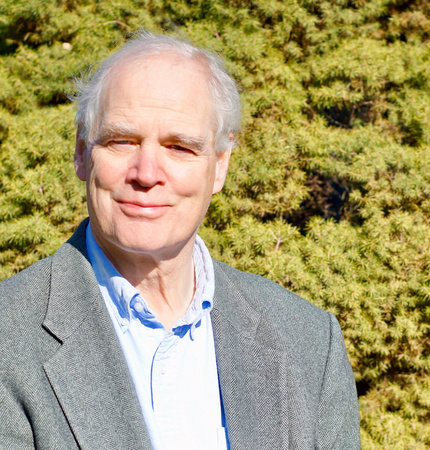 Photo: © George Clements