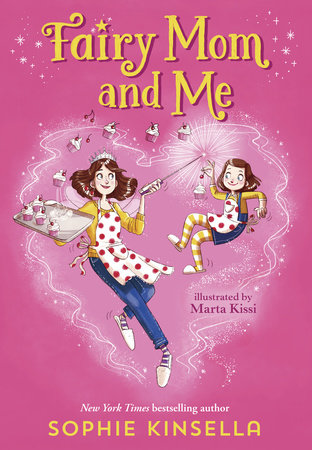 FAIRY MOM AND ME by Sophie Kinsella (Delacorte Press, January 2018)
Sophie Kinsella is a bestselling author from Britain--if you read adult literature she has a well-known series:
Shopaholic.
Now she's written her first book for children, and it's a fun and frothy confection starring fairies. Once the mafiosi got past the glaring pink cover, we enjoyed it immensely.
What It's About (from jacket copy)
:
Ella Brook can't wait to grow up, because one day she will become a fairy and have her own sparkly wings and a teacher on Fairy Tube, just like her mom! Until then, Ella has to watch her mom in action. But sometimes spells go wrong, and Ella's mom can never seem to remember the right magic codes.
A lot of the time it's up to Ella to come to the rescue. Does she have what it takes to be a fairy one day? Or will there be more glitches than glitter?
Filled with Sophie Kinsella's sparkling humor and Marta Kissi's charming illustrations,
Fairy Mom and Me
is a story about a savvy girl, her imperfect mom, and a little bit of magic.
Opening Lines:
"Hi there. My name is Ella Brook, and I live in a town called Cherrywood. I have blue eyes and brown hair. My best friends at school are Tom and Lenka. My worst enemy is Zoe. She lives next door and she's my Not-Best Friend. She looks mean even when she smiles. You'll meet them all later."
My Thoughts:
This is a rollicking romp, and a great deal of fun. Mom is quite inept at her fairy magic, and every spell she tries ends up in a great big mess (literally!) I love that the modern fairy learns spells off FairyTube, and employs "Computawand V5s." (Grandma, of course, has an old-fashioned wand.)
There's not a huge amount of character development, but that's not the strength of stories like this. It's all in the crazy mayhem that ensues when fairies try to clean house, or get fed up standing in line at the grocery store. Frenemy Zoe is an out-and-out villain, and little brother Ollie is a one-man wrecking machine.
The illustrations are super, and this is a quick read which would be perfect for 2nd-4th graders. The good news: there is a book 2 in the pipeline:
Fairy In Waiting!
Also, in late January, Lambur Productions announced it had optioned the book for a live-action television series!!! A modern-day
Bewitched,
maybe?!
(P.s. I received a free copy from the publisher, in exchange for an honest review.)
About the Author:
Sophie Kinsella's books for grown-ups have sold over thirty-eight million copies worldwide and have been translated into more than forty languages. They include the
Shopoholic
series,
Can You Keep a Secret?'
and T
he Undomestic Goddess.
She is also the author of the YA novel
Finding Audrey.
The adventures of Ella and Fairy Mom are her first stories for children. She lives in London, England, with her husband and family.
WEBSITE