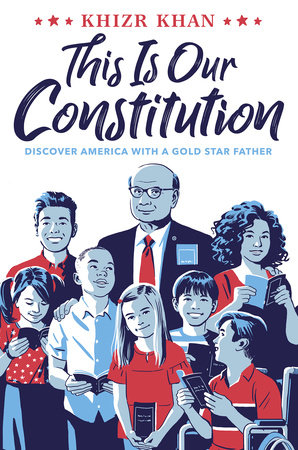 THIS IS OUR CONSTITUTION: Discover America with a Gold Star Father by Khizr Khan (Knopf 2017)
Khizr Khan burst onto the national stage at the Democratic National Convention in 2016. With his wife Ghazala standing next to him, he told the story of their son, Captain Humayun Khan, who died at age 27 in Iraq in 2004. Captain Khan took the brunt of a suicide bomber and saved his men by doing so. He was posthumously awarded the Bronze Star medal and a Purple Heart.
During his speech, Mr. Khan drew a copy of the US Constitution from his jacket pocket and addressing the Republican party's presidential nominee famously asked. "Have you even read the United States Constitution?" To rousing applause, he concluded: "I will gladly lend you my copy."
(Sales of the pocket constitution spiked after this speech.)
Mr. Khan is a lawyer. As a young man, he and his family immigrated to the US from Pakistan. He marveled at the freedoms and the system of government of his new home. Now, in this book, which in my opinion should be required reading for every citizen, he explains the history behind the Constitution and details all the parts of it. He also visits important legal cases. At the end of the book, the Constitution, the Bill of Rights and the other amendments are printed in full.
Opening Lines:
Our nation has always looked toward the future. History matters, of course, but the founding documents of the United States are more than history lessons. They point the way forward to a more free, more peaceful, and more just nation. They challenge each generation to build a better United States.
My Thoughts:
I became a citizen in 2008, and wish I had read this book while studying for my citizenship test. (If truth be told, because I had to study for that test, I seem to know a lot more about civics and government than my natural born American friends.)
The book is very well-organized. It's target audience is middle schoolers, and it does a great job of keeping them interested in what, potentially, could be a dry subject. Along with the easy to comprehend text, there are illustrations, photographs, and many speech bubbles throughout the pages, where Mr. Khan often contrasts the United States and the rule of law with his experiences growing up in an undemocratic Pakistan.
I will definitely share this book with my current 5th grader. Democracy flourishes only when there is an educated and engaged citizenry.
About the Author:
Khizr Khan was born in 1950, the eldest of ten children in rural Pakistan. He moved to the United States, with his wife Ghazala, in 1980. The couple became United States citizens and raised their three sons in Silver Springs, Maryland. Mr. Khan holds an LLM from Harvard Law School. He and his wife now live in Charottesville, Virginia.
This will be my last post for 2017. The Don and I wish all our readers a happy holiday season, and look forward to reviewing many more wonderful middle grade books in 2018. Buon Natale!