Clean Getaway
CLEAN GETAWAY by Nic Stone (Crown, 2020)
What It's About (from Random House web page):
How to Go on an Unplanned Road Trip with Your Grandma:
Grab a Suitcase: Prepacked from the big spring break trip that got CANCELLED.
Fasten Your Seatbelt: G'ma's never conventional, so this trip won't be either.
Use the Green Book: G'ma's most treasured possession. It holds history, memories, and most important, the way home.
What Not to Bring:
A Cell Phone: Avoid contact with Dad at all costs. Even when G'ma starts acting stranger than usual.
Set against the backdrop of the segregation history of the American South, take a trip with this New York Times bestseller and an eleven-year-old boy who is about to discover that the world hasn't always been a welcoming place for kids like him, and things aren't always what they seem–his G'ma included."
Opening Lines:
"It might sound silly, but to William "Scoob" Lamar, the WELCOME TO ALABAMA THE BEAUTIFUL sign looks... well, beautiful. Not as beautiful as his beat friend Shenice Lockwood in her yellow sundress, but beautiful enough to make Scoob tip his head back, close his eyes, and sigh into the breeze blowing through the open passenger-side window in G'ma's Winnebago."
The Mafioso's Thoughts:
I have to say when you see a blurb from Christopher Paul Curtis that this is "a book that deserves to be eaten by young people!" that one's appetite is whetted. And, as often happens serendipitously, I have just finished JUST MERCY by Bryan Stevenson (which is a wonderfully written indictment of our criminal justice system, especially its racial bias)--and CLEAN GETAWAY has an inscription by him in its front matter: "Each of us is more than the worst thing we've ever done." The signs were there for all to see: this novel was calling my name!
This is an engrossing tale about family dynamics, and righting past wrongs. G'ma is a hoot, and Scoob is appealing from the get-go. What is revealed as the story progresses is the hurt and hardship the characters have suffered, which doesn't define them, but makes them whole human beings, warts and all. As they make their way across the South is G'ma's new RV, the stories of black history come alive. They visit Sixteenth Street Baptist Church in Montgomery, where four little girls were killed in a bombing. They stop at the house where Medgar Evers was assassinated. (They also hit a Six Flags Amusement Park and go on all the cool rides.) During this trip, a lot of family history is revealed, and Scoob gets a better understanding of why his own father is the person he is.
This was a fast read, and the characters were appealing. I loved the artwork within, and the general design on the page. Nic Stone does a great job of weaving African American history into a boy's understanding of himself and his family. Loved it!
About the Author:
Nic Stone is an Atlanta native and a Spelman College graduate. After working extensively in teen mentoring and living in Israel for several years, she returned to the United States to write full-time. Nic's debut novel for young adults,
Dear Martin
, was a New York Times bestseller and a William C. Morris Award finalist. She is also the author of the teen titles
Odd One Out
, a novel about discovering oneself and who it is okay to love, which was an NPR Best Book of the Year and a Rainbow Book List Top Ten selection, and
Jackpot
, a love-ish story that takes a searing look at economic inequality.
Clean Getaway
, Nic's first middle-grade novel, deals with coming to grips with the pain of the past and facing the humanity of our heroes. Nic lives in Atlanta with her adorable little family.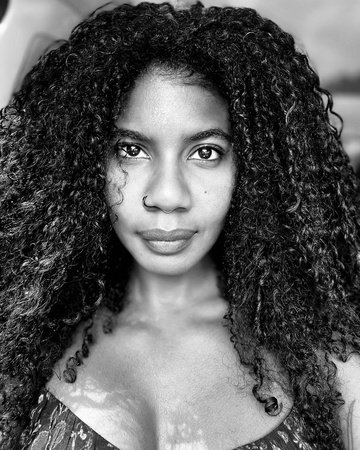 Photo: © Nigel Livingstone